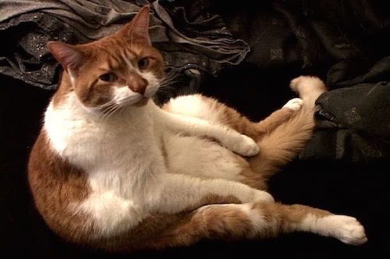 I was just joking around with a friend when I argued that I could make a short film about anything. Minutes later, it became a challenge and I agreed to make a short film about my cat.
In January of 2008, I posted a sixteen-second clip of my cat, Wilber, where he looked at the camera and burped. Of course, it wasn't a real burp. All I did was remove his meow and replace it with a sound effect, but there was something else people fell in love with. Wilber sits like a person. He does it all the time, so it was very natural to have footage of this. The clip quickly generated a couple thousand views, which motivated me to keep working on the actual short film.
I recruited my cousin's husband, Erik Bortz, as the voice of Wilber and Vrooom the Vacuum Cleaner. I did the voice of Ralph Mouse. My cousin, Sara Berret, later voiced the character of Tulip as well as some supporting characters. Sara and Erik's daughter, Ava Bortz, appeared at the beginning of every episode and yelled Wilber's name. Evil Jared Hasselhoff was kind enough to let us use his recording studio, Disgraceland, and musician Mike Mallon worked the sound board.
For music, I approached DJ Q-Ball, also a member of the rock band The Bloodhound Gang, and he provided tunes from his side project with Troy Walsh called Federal Moguls. At the time, their entire album was available as a free download, but is only currently available for purchase in the iTunes Store. Troy Walsh also performed the Wilber the Cat theme song that plays at the beginning of every episode.
The following month, on February 28, 2008, I released the actual short film. I almost called it Wilber & Friends, but eventually settled on the self-titled Wilber the Cat and an internet star was born. Wilber the Cat got about 20,000 views in the first weekend and a special thanks goes out to Cory Williams of SMP Films who helped spread the word to his Mean Kitty fans.
Everything snowballed from there. It was a complete accident. I never expected Wilber's videos to generate millions of views on YouTube. The first episode wasn't even supposed to be an "episode," just a stand-alone short film. Once it crossed 50,000 views in the first couple weeks, I knew I had to make a second one. But how could I top the first?
I decided to make the second episode about a trip to the veterinarian. I had a feeling Wilber wouldn't cooperate, but it was worth a try. After calling several local vets, Indian Valley Animal Hospital allowed me to come in and film the episode. Dr. Trish Curran agreed to appear and the plan was to have her lecture Wilber about his weight and diet before giving him his shots. There wasn't much of a script, but some unexpected magic happened while we were there. As expected, Wilber was difficult, but we stumbled upon something that would appear in future episodes: Catnip Squirrel.  
Dr. Curran gave Wilber the toy to try to calm him down. It worked, maybe a bit too much. He became obsessed with it. I never gave Wilber catnip before, so this was brand new to him. Somehow Catnip Squirrel ended up in Wilber's travel box and I found it when we got home. I called the office the next day and they told me to keep it, so I filmed more footage of Wilber and Catnip Squirrel at home and almost the entire story unfolded in the editing process.
Wilber Goes to the Vet was released on May 22, 2008 and featured actor Robert Romanus as the guest voice of Scar the Cat and Wilbur the Pig, a reference to Charlotte's Web. Erik, Sara and I had fun voicing the various animals at the vet and Stewart's Bird Farm. The video was briefly featured on YouTube and the Wilber craze continued, so I kept making new episodes. There have been a total of eleven official episodes with dozens of random videos between them.
Several episodes featured music from Parry Gripp of the band Nerf Herder. Parry is also the creator of the jingle for the annual WaWa Hoagiefest. Musician Pete Droge also gave us special permission to use one of his songs, as did many other recording artists over the years, including Lisa Loeb.
In the early days, I set up a post office box where Wilber received gifts and cards from his friends around the world. Parents often sent emails and thanked me for providing something on YouTube that they could watch with their children.
Wilber also made some famous friends, including Adam Rifkin, who wrote many popular films including Disney's Mousehunt and Underdog. Adam also directed a favorite film of mine called Detroit Rock City.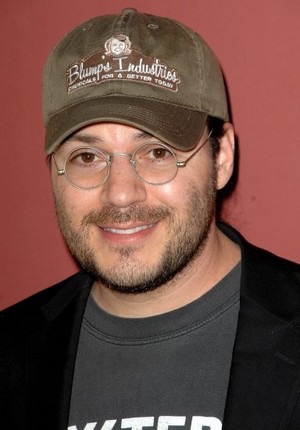 To quote Adam, "I know house pets and trust me, Wilber is hilarious! I eagerly await each new Wilber adventure, not only to enjoy myself, but to immediately forward to all my friends." Adam can be found on Facebook at www.facebook.com/adam.rifkin.9 and on Twitter at www.twitter.com/adamrifkin.
The series also got the attention of ICM agent Josie Freedman and I have to thank her for believing in the project. While we received serious consideration from companies like Disney and Nickelodeon, the show did not get picked up by a network. I pitched it as an animated series that would follow Wilber on adventures across the planet and even to the moon. I had one executive tell me that he thought the series was working fine just the way it was. I still hope to develop this show for a network.
Cartoonist David Magliocco created the logo for the show and programmer John Hogan coded the mobile app for iOS and Android devices. Designer Amy Reimers created the poster for Wilber's Presidential campaign.
The episodes of Wilber the Cat still receive lots of daily views even with no promotion or new videos and he was recently featured on the Animal Planet network and ranked as one of America's Cutest Cats. 
I have been waiting for my daughter to reach a point where I can include her in new videos and that day is coming soon. Stay tuned for new episodes! In the meantime, I launched a Vine channel for Wilber at www.vine.co/wilberthecat