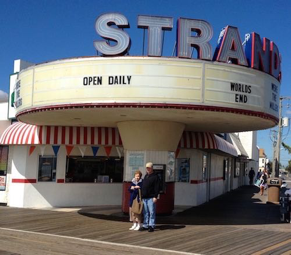 I mentioned earlier that my grandmother, Eileen Moyer, took my brother and I to see Back to the Future in Ocean City, NJ. The theater was called The Strand, located at Ninth and Boardwalk. In addition to her falling asleep during the movie, I'll never forget the word she used to describe the movie: slaphappy. I didn't even know what that meant! My brother recalls that she said Michael J. Fox a very nice boy.
Regardless, she is the one who took us to see Back to the Future, so I thought it would be neat to get a picture of my grandmother and I in front of The Strand movie theater and include it in this chapter. She recently turned ninety-four years old, but is still able to walk up and down that boardwalk with ease.
I was already there for the week, so my aunt Anne drove her down to meet us for the day. It almost didn't happen. It was rainy the day before and my grandmother wasn't sure if a day trip was a good idea. I called her up and reminded her that I was really hoping to get the picture and she promised to be there.  
On September 17th, 2013, she arrived just after 11:00AM with my aunt. The plan was for my girlfriend Allison, my mom, and stepdad Al, to tag along and take as many pictures as possible of my grandmother and I in front of the theater. When we arrived at The Strand, we stood under the marquee and everyone snapped pictures with their cameras. The World's End and We're the Millers were the movies that were playing. While the historical ticket booth is still there, the entrance is now located on the side of the building. The Strand's original lobby is now rented by Rita's Water Ice.
I asked Allison to take a few pictures with me too. Once the cameras were rolling again, I looked at her and asked if she really thought this was all for a picture. I reached into my pocket, pulled out a small box and revealed a diamond ring. She never suspected a thing. My grandmother didn't even know what I was up to. She really thought she was there for a picture, which I still intended to use for the book anyway.
Allison, you are my density. 
By proposing at The Strand, the Back to the Future connection came full circle in Ocean City.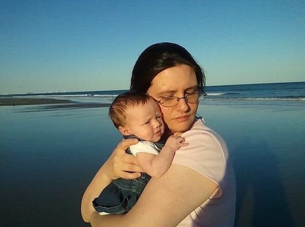 Allison and Michelle in Ocean City, NJ, a month after her birth.