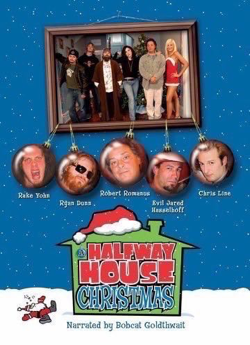 It started as a script called Halfway House.
On a rewrite, I decided to turn it into a holiday film and A Halfway House Christmas was born. Originally planned as a twenty-five minute short film, the final running time was nearly an hour which qualified it as a feature. 
With a budget similar to The Good Life, producer Frank Carney and I had a different strategy and spent the majority of the money on the actors. We flew in actor Robert Romanus (Damone from Fast Times at Ridgemont High) for just three days of work and scheduled all of his scenes accordingly. For the film's narration, we arranged for comedian Bobcat Goldthwait (Zed from the Police Academy series) to visit a recording studio in Los Angeles for a couple hours to lay down his audio tracks. The entire film was shot in ten days spread out over three weekends.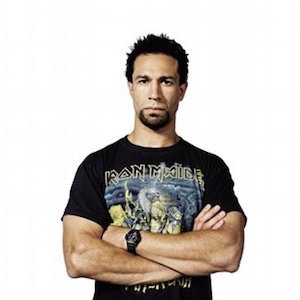 A fellow Souderton High School graduate, Evil Jared Hasselhoff from the rock band The Bloodhound Gang, agreed to be in the film before the script was even finished. He was friends with Ryan Dunn and Rake Yohn from MTV's Jackass and Viva La Bam and quickly brought them on board with him.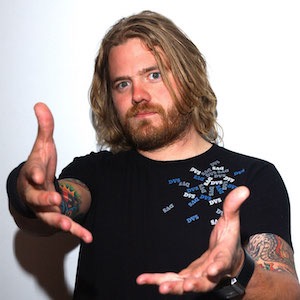 While Robert Romanus was my first choice to play the counselor Daryl, he originally passed. I was a big fan of Fast Times at Ridgemont High and posted on an IMDb (Internet Movie Database) message board that I was looking for him. 
Someone pointed me in the direction of his manager, Melanie Sharp. I contacted her, but she said he was not accepting film roles at the moment while he was tending to a personal matter.
My next choice was Curtis Armstrong, who played Booger in Revenge of the Nerds. Curtis was fairly easy to track down. If you looked hard enough, you could find his personal email online. It took a few times, but eventually Curtis responded.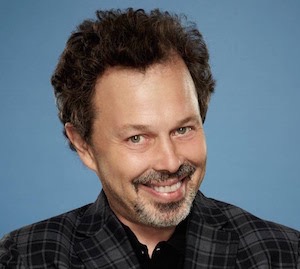 I sent him the script and he said yes. This would have been a reunion of Curtis and Bobcat from the film One Crazy Summer, but technically they would not appear in any scenes together.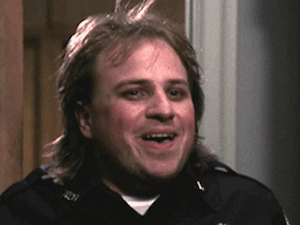 As I assembled the rest of the cast and crew, Curtis appeared in several critically acclaimed films including Ray and Akeelah and the Bee. This led to a dreaded call from Curtis. He was getting busy and I knew what was coming. As much as I tried to convince him to stay, Curtis dropped out of my film, but was very nice and apologetic about it.  
The search was on for a new star and time was running out. Naturally, I tried to go in a direction connected to Curtis and Bobcat. For example, I contacted Donald Gibb who played Ogre in Revenge of the Nerds, but something didn't seem right. I also contacted Michael Winslow, the sound effects guy from Police Academy, but he wanted too much money. The rest of my casting ideas were stuck in the eighties. I contacted agents for actors ranging from Ralph Macchio (The Karate Kid) and Judd Nelson (The Breakfast Club) to Robert Hays (Airplane) and Corey Feldman (Stand By Me).
Meanwhile, I still pictured Robert Romanus in the role. It had been a while since he originally passed for personal reasons, so I sent his manager a follow-up email to see if anything changed. Sure enough, he was accepting film roles again and within a couple months he was on a plane to Pennsylvania to film my movie.
Robert Romanus, who goes by the name Bob, was an amazing actor to work with. I'll be the first to admit that I was nervous at first, but Bob had a way of making everyone around him feel comfortable. Since we didn't have a trailer for Bob, we prepared a private area of the house we were filming in, but he didn't want to separate himself from the rest of the cast and crew and opened the area up for everyone. I consider Bob a friend and we remain in touch. When Frank Carney and I took a trip to Hollywood the following year, we met up with Bob at his house and took him out to dinner. I wrote a part specifically for him in my script School Spirits and look forward to working with him again soon.
Originally, I wanted Ryan Dunn to play a version of himself which is why there is a character named Ryan. Whenever I used real names, they were just temporary place holders, but I got used to them and left them in. Ryan Dunn could only commit to a smaller role, so I cast him as Buzz, and approached Casey Fosbenner for the role of Ryan. Casey is known to many in the Philadelphia area as Caseyboy from the Preston and Steve show on 93.3 WMMR. When Caseyboy passed due to his radio schedule, I approached some locals before finally casting musician Brian Walsh in the role of Ryan. He ran away with the part and it was always fun to edit his scenes. It was even Brian's idea for his character to wear the winter hat and brown bathrobe.
Evil Jared Hasselhoff had an RV that we parked in my driveway for make-up and meetings. However, when Jared was on set, it was his personal trailer for the day. Speaking of Jared, there was always lots of slapping going on when he was around, mostly on Tweak. They were all real slaps and Jared showed no mercy. All of the slap outtakes are a bonus feature on the DVD and can be watched on the website.
Chris Line played the part of Brett, the network executive. I originally approached the manager for The Bloodhound Gang, Brett Alperowitz, but he passed due to his work schedule. I really wanted Brett for this part because I thought he looked like film producer Brian Grazer, but radio disc jockey Chris Line did a great job with the role. In yet another connection to The Bloodhound Gang, I wanted their lead singer, Jimmy Pop, to play the part of Barry, the replacement counselor who shows up near the end. I could never get a response from Jimmy, so the part went to Matteo LeCompt, who knocked it out of the park. I'll never forget Matteo's audition. He showed up as Barry and never left character. The outfit he wore in the movie is the same outfit he wore to the audition. I later found out that he took the train and walked several miles to my house to get the part.
Other cast members included Rod Sellers (lead singer of the band American Nightmare), Charles Moffit, Kelly Kunik and Marisa Kettering. The crew included Nelson Carlson, Keith Krick, Terreyl Kirton, Dawn Troccoli, David Nash, Christopher Niemeyer, Dunia Kravchak and James Marengo. The original score was composed by Albert Chang and the opening and closing animation was done by John Bell.
I have to mention the feline cast member, Wilber, who portrayed Wreather the cat. The name Wreather was based on a funny story my friend Pete told me before he died. Back when he lived with his parents, he named the family cat Reefer. When his mom questioned the name, Pete explained that the name was Wreather, like a Christmas wreath. She accepted his explanation and continued to call the cat Reefer long after Pete passed away.
We premiered the film at the Broad Theater to a packed house of nearly 500 people, then opened it to the public the following week. The film was listed in The Hollywood Reporter as placing in the top ten of their "per screen average" chart.
On the night of the premiere, we had an after party at Finn McCool's tavern in Hatfield, hosted by the bar's owner, Joseph Canazaro. About a year later, Joe tracked me down and said he wanted to finance my next film, but more on that in the School Spirits chapter.
Some people really enjoyed A Halfway House Christmas, while others didn't, but everyone agreed it was a huge step forward from my first film The Good Life. I was proud of the progress I made between the two projects. Since this film was intended to be the first part of a series, a teaser for A Halfway House Summer was shown before the end credits. It was imagined as an eighties beach movie set in Ocean City, NJ.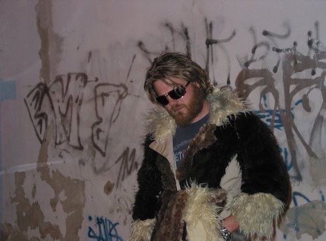 Ryan Dunn on the set of A Halfway House Christmas.
A Halfway House Christmas was one of the few rare film appearances that Ryan Dunn made outside of the Jackass films. Sadly, on June 20th, 2011, Ryan was killed in a car accident in West Chester, PA. Just two days before his death, Ryan and I exchanged text messages about his participation in my next movie, School Spirits. He was always supportive and encouraging of my projects.
Here are the opening pages of the script for A Halfway House Christmas that features John Bell's animated titled sequence. 
CLICK HERE to read this script excerpt.
To open the video on a larger screen, go to this link: https://vimeo.com/113868501
The next scene is one of my favorites and features Robert Romanus and Rod Sellers. There are some noticeable differences between the script and film, as the actors ad-libbed some of their lines on set. 
CLICK HERE to read this script excerpt.
To open the video on a larger screen, go to this link:  https://vimeo.com/113877743
So what are the actors up to these days?
Robert Romanus continues to act in films and performs in his band Poppa's Kitchen. 
Bobcat Goldthwait has directed films such as World's Greatest Dad, God Bless America and Willow Creek.
Rake Yohn is married with a son and is growing genetically modified bacteria for the benefit of mankind.
Chris Line has a son and continues to be a DJ on the radio.
Evil Jared Hasselhoff is currently under investigation by the Russian Bureau of Investigation for rubbing a Russian flag on his butt at a concert in Odessa, Ukraine. If convicted, he faces five years in a Siberian labor camp. This isn't a joke, they are seriously trying to lock him up for five years for twerking a flag.
The rest of the cast and crew are doing well and I remain in contact with most of them.
The shooting location for A Halfway House Christmas was a house that I shared with roommates for more than ten years. The house was so big, it was like everyone had their own separate apartment. Counting the third floor, there were eight bedrooms and four bathrooms and the property sat on nearly twenty acres of land.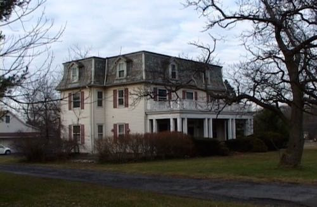 I moved in shortly after I finished my first film The Good Life. My roommates included my brother and two of the stars from that film, Chris Murphy and Steve Wise. Other roommates came and went over the years, including Stephanie Doyle, Dan Krolikowski, David Kinion and Mike Lagnese.
I always joked about the prospect of buying this house someday or even having blueprints made to rebuild the house from scratch. In addition to A Halfway House Christmas, it was also used as the location for my children's web series Wilber the Cat.
While on the subject of Christmas movies, a friend just released a documentary called I Am Santa Claus, which follows the lives of five real-life Santas year round. Check out the website for Tommy Avallone's film at www.iamsantaclausmovie.com  
For a limited time, watch A Halfway House Christmas for FREE:
To open the video on a larger screen, go to this link: https://vimeo.com/108248505