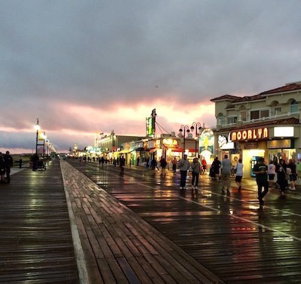 When I was a kid, my grandparents rented a house on the beach in Ocean City, NJ, for two weeks every August. There are some obvious things that separate Ocean City from nearby beach towns. You have to pay to go on the beach and a staff walks around and checks for tags. The other big difference is that Ocean City is a dry town. There are no bars, beer distributors or liquor stores and you can get a fine for drinking in public.
I have lots of memories of Ocean City. My uncle Mark dug large holes in the sand and would bury my brother and I to our necks. My grandmother packed lunches for the beach with sandwiches, peaches and plums. I was terrified of stepping on a jellyfish, and on the boardwalk, there were scary monsters that ran around on the roof of the Playland amusement park. I'll always remember eating ice cream and watching the ocean at the music pier, and of course, walking by the arcades on the boardwalk just to hear the sounds of dozens of Pacman and Donkey Kong video games being played.
Most important, Ocean City is where I saw Back to the Future for the first time in the summer of 1985. It set me on a course that would have ripple effects throughout my own time space continuum.