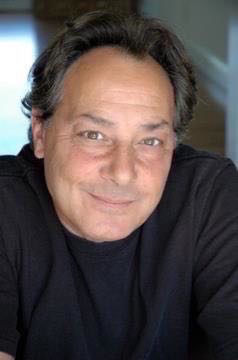 I hated school. I never worked at it. I basically did what was needed to pass; through grade school, middle school, high school and even into college. I was plain and simple, an uninterested student.
The only thing I was ever passionate about was music; listening to it and playing it. 
I left college after my second year and headed for Hollywood with intentions of becoming Doc Severinsen's drummer on The Tonight Show. Needless to say, it never happened. Along the way, playing gigs here and there, I started taking an acting class. I thought it would help with my shyness. 
It was in that acting class that I found the person who inspired me. Her name was Peggy Feury and she was amazing. She was the kind of teacher that made you want to do your best, one of those rare people who made everyone feel special and that you were her favorite - everybody felt that way about her. 
I started reading plays - always the classic writers; Hemingway, Shaw and Chekhov. She encouraged me not just to read one play, but all of that author's work to really understand the men and women behind the writing.
I would go there five days a week and evenings just to listen to her tell stories and talk about the process of acting. She was a little gray-haired woman who dressed in a skirt and sweater or blouse and always wore a string of pearls.
She was magical, one in a million, and not just for me. All of her students felt the same. It was a wonderful time in my life. I was reading and working on all the classic plays with a teacher who had a masterful grasp on the process of acting.
When Peggy died in a car crash on November 20, 1985, all of her students were lost. We would never find a teacher so nurturing, who made us want to learn and absorb everything she had to offer. I looked for a long time, but never found that again.
Some of the other students in my class at the time included Sean Penn, Meg Tilly, Nicolas Cage, Eric Stoltz, Lily Tomlin and Michelle Pfeiffer. The list goes on and on, and everyone in town wanted to study with this great teacher. I'm forever thankful that I got to work with her for eight extraordinary years.
And then there's my favorite place in the world…Joe's Pond in West Danville, Vermont.
I've been going there since I was about eleven years old. In my mind it's a tranquility base. Every summer, for the first two weeks in July, my family would rent little cottages around the pond. We'd take turns entertaining each other and doing pot luck dinners. On average, there used to be about thirty people and it was always a great reunion to look forward to. 
There were three little ponds that all connected. We stayed on the big pond, and as a kid, it was a place to be Tom Sawyer, always barefoot. Fishing, swimming and water sports were the activities of the day. While I learned how to water ski, canoe and fish, it was also a place where I learned about family and its importance.
One of my favorite things, even as a youngster, was to all pile into our little boat and cruise along at a snail's pace close to shore and pick out the camp I thought one day I'd like to own. This is a dream I still hold onto. My other favorite thing was to hike up the hill. It was a couple of miles and at the top was a small cemetery filled with graves dating back to Civil War times. As you stood in the cemetery and looked out west over the horizon, you could see the green mountain range colored by beautiful sunsets. I would think about the old gravestones and the life the people must have endured during the long and very cold Vermont winters. Many graves were of children and entire families stricken down by disease or the elements.
In my later years, Joe's Pond became my quiet place to go and reflect on life. The older folks are all gone, the crowd is much smaller and I don't water ski anymore. It's much harder to recover from those wipeouts than it used to be. I simply enjoy sitting on the porch with my fishing pole and guitar with the fabulous memories of my family.
I still dream that one day I'll own a little place and spend more time there, but for now, I'm happy with those first two weeks in July and spending time with what family members and cousins are still left. I told my kids, when my time is up, I'd like my ashes to be spread up on that mountain top by that cemetery where it looks out at Vermont's green mountains colored by those beautiful sunsets. 
I'd like to see that every evening…
Robert Romanus
Los Angeles, CA
Robert Romanus is an American actor and musician who has starred in film and television. He is best known for his role in the 1982 comedy Fast Times at Ridgemont High as ticket scalper Mike Damone. Over the years, he has appeared on the soap operas Days of Our Lives and The Young and the Restless, as well as the television shows Fame, CHiPs, 21 Jump Street, MacGyver, Will & Grace and many more. He currently lives in Los Angeles where he owned and operated Bob's Espresso Bar. He has three children and continues to act in films and play music with his band, Poppa's Kitchen. www.poppaskitchen.com